Scottsdale, Arizona has established itself as one of America's most desirable places to call home, joining the ranks of other enviable cities such as Beverly Hills, Miami, and New York City. Living in Scottsdale means being surrounded by the epitome of luxury, desert beauty, and fun, so it comes as no surprise that so many people are dreaming of moving to this Arizona city. If you're thinking about relocating to Scottsdale, here's what you need to know about this shining gem of the American Southwest.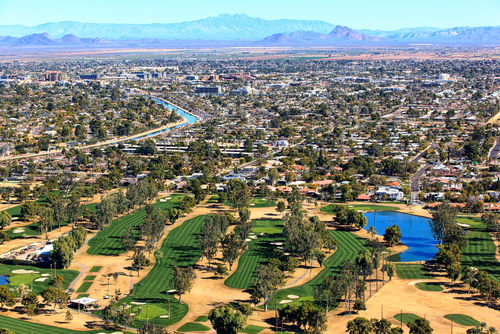 There's Something for Everyone in this Desert City
One of the reasons that Scottsdale is such a popular destination for new residents and tourists alike is the wealth of experiences this one-of-a-kind city has to offer:
At Fashion Square Mall, fashion lovers can browse the latest creations for the world's most revered designers, including Chanel, Louis Vuitton, and Burberry.
Critically-acclaimed chefs and restaurants are around every corner in Scottsdale, serving up everything from prime steaks and seafood to tasty sweet treats.
Hiking Camelback Mountain is just one of the ways you can experience the natural side of Scottsdale; the nearby Desert Botanical Garden, McDowell Sonoran Preserve, and others offer plenty of must-see spots.
You can treat yourself to a day of self-care at one of Scottsdale's luxury spas, with services such as facials, massages, saunas, and more.
Catch a spring training baseball game at Scottsdale Stadium, where the San Francisco Giants draw massive crowds of enthusiastic fans. Once the game is over, you can explore the surrounding Old Town historic district to find some of the city's best galleries, bars, boutiques, and restaurants.
Scottsdale is Considered One of America's Hippest Locales
Named the "desert version of Miami's South Beach" by none other than the New York Times, Scottsdale has a well-earned reputation as one of the most stylish cities in the country. Trendy nightclubs, upscale designer fashion, celebrity residents, contemporary art, and five-star dining are among the city's shining qualities, making it a hub for cutting-edge action.
With Weather Like This, You'll Never Miss Winter
While other metropolitan centers are covered in freezing snow and ice all winter long, Scottsdale enjoys plenty of sun and mild temperatures in the 60s and 70s. With more than 330 days of sunshine every year, the city is the perfect place to escape cold winters and rainy climates.
For Residents in the Know, Scottsdale is an Oasis of Luxury Living
While there are plenty of options for apartments in Scottsdale, in order to truly experience the best of this thriving city, you'll want to choose your home carefully. A handful of luxury apartment communities in Scottsdale, including Optima Sonoran Village, represent the ultimate in VIP living. Counted among the best upscale residences in the world, these communities feature amenities such as complimentary coffee service, 24/7 concierge, on-site personal training and massage services, rooftop decks, and so much more. For anyone moving to Scottsdale, a luxury residence provides a lifestyle unlike any other.
Make Optima Sonoran Village Your Home in the Heart of Scottsdale, AZ
Interested in living in Scottsdale, AZ? With so much to do and see in this cosmopolitan desert city, you'll be glad you made the move. At Optima Sonoran Village, you'll be able to truly experience the Scottsdale lifestyle, where every single day can be your best one yet. Our community is designed for the resident who wants more from life, with spacious, designer-inspired interiors, lush landscaping, and unparalleled amenities.
Learn more about planning a move to Scottsdale and choosing the right Optima Sonoran Village residence for you by scheduling your private tour today.
Photo Credits: Shutterstock/ Tim Roberts Photography