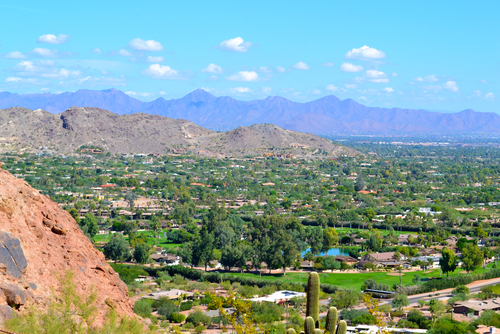 Whether you're already an Arizona local or someone who's new to the Grand Canyon State, odds are you already know that the Valley is one of the fastest-growing regions in the U.S. And while each of the cities in the Valley have their own unique qualities to offer new residents, Scottsdale has quickly become known as one of the best places to live in Arizona.
If you're considering moving to Scottsdale, Arizona, the pros and cons of living here are probably one of the topics you're most interested in – so we're breaking down all the best things about relocating to this desert city.
You'll Never Run Out of Things to Do in Scottsdale
One of the reasons that Scottsdale is such a desirable place to live is that it's home to a massive variety of restaurants, shops, bars, galleries, and so much more. Whether you're a sports lover, a foodie, a designer fashionista, or anything in between, you can find plenty of things to do here. Plus, the city's close proximity to other parts of the Valley makes it easy to access everything Arizona has to offer.
You Can Become a Resident at Optima Sonoran Village
For new residents searching for a luxury residence where they can enjoy a VIP lifestyle, there's only one community worth considering in downtown Scottsdale: Optima Sonoran Village. Moving to Scottsdale means you'll be able to settle into your new life at Optima Sonoran Village, where you'll enjoy the very best in first-class amenities, stunning living spaces, and so much more.
Our contemporary residences are specifically designed to serve as the perfect canvas to your everyday life, and our community offers top-notch amenities such as unparalleled privacy and security, a full-service concierge, world-class fitness center, and lush outdoor landscaping. Located in the heart of Old Town Scottsdale, we put you within easy reach of everything in Scottsdale.
Skiing and Winter Weather Fun is Just A Drive Away
Where else can you wake up in the winter with 70+ degree sunny weather, hop in your car and be skiing in under three hours? While you may miss the changing seasons in the valley, luckily, you can always go to Flagstaff or Sedona to get your winter fix or Mt Lemmon to go skiing.
Summer Fun
Scottsdale is part of the Arizona desert, so it's probably no surprise that the temperature can climb pretty high here. It's not unusual to have 100-plus degree days, and the summer sun keeps the city warm from May through September. However, the hot summers mean you'll be able to make the most of pool party season, especially at the resort-style pools at Optima Sonoran Village.
Join the Most Exclusive Luxury Community in Scottsdale
Like nearly any city in the world, Scottsdale can be an incredible place to start a new life – but only if you choose your home wisely. Whether you're brand-new to the area or are simply looking for new apartments in Scottsdale, Optima Sonoran Village is the city's best place to call home. Our luxury residences are unlike anything else in the Valley, complete with the extensive amenities you want and deserve.
Learn more about Optima Sonoran Village and the life you can have here by contacting us to schedule a private tour of our community today.
More From – Optima Sonoran Village
Location – Where is Optima Sonoran Village?
We're a local apartment complex in Scottsdale, AZ located right off Camelback Road. Our experienced team is eager to help you move into the home of your dreams. We're the best place to live in Scottsdale and once you visit us you'll see why!