Architect Frank Lloyd Wright was and still remains, a pivotal figure in 20th-century architecture, redefining the limits of contemporary design. His career spanned more than seven decades and produced hundreds of innovative structures, opening the eyes of the world to an original philosophy he called "organic architecture." More than 500 of his 1,000-plus architectural concepts were completed, with a considerable number of structures existing in the desert landscapes of Arizona, specifically the city of Scottsdale.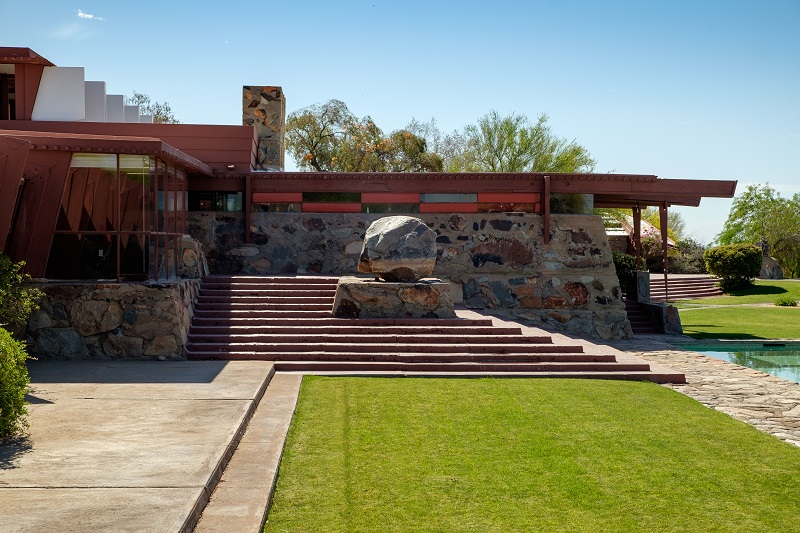 Here are just a few of the Arizona structures designed by the great architectural pioneer, Frank Lloyd Wright.
Taliesin West
12621 N. Frank Lloyd Wright Boulevard, Scottsdale
Perhaps one of the most famous of Wright's buildings in Scottsdale, Taliesin West incorporates many of his signature elements: rock and sand sourced from the Arizona desert, canvas roofs, and redwood beams. The expansive complex is comprised of a series of buildings linked by various walkways, gardens, pools, and terraces, existing in tandem with the surrounding landscaping.
Today, Taliesin West carries on Wright's legacy by serving as the home of the Frank Lloyd Wright Foundation and School of Architecture. This nationally-registered historic landmark is open to the public, with tours available upon request.
Frank Lloyd Wright Spire
16227 N Scottsdale Road, Scottsdale
Although Wright designed the Frank Lloyd Wright Spire in 1957, his vision didn't come to fruition until the structure was built in 2004. Marking the intersection of Frank Lloyd Wright Boulevard and Scottsdale Roads, the eye-catching spire is located at the Promenade Mall. Stretching 125 feet into the sky and illuminating with vibrant blue lights after dark, the Spire is an impressive sight to behold.
Harold Price House
7211 N. Tatum Road, Paradise Valley
Initially built as a retirement home for a pair of Wright's beloved clients, the Harold Price House was designed to serve as a place for the extended Price family to spend time together and make happy memories. The private residence is tucked away in a quiet part of Paradise Valley, featuring multiple master suites, an open-air atrium, and an elongated design with Wright's signature geometrical elements.
Commercial Complex on Scottsdale Road
Just across the street from Optima Camelview Village, you can't miss this uniquely-designed shopping plaza created by none other than Wright himself. Between the floor to ceiling windows, stone accents, and geometric details, it's easy to see the architect's signature touches on every part of the structure. The complex houses a variety of local businesses and restaurants, including popular wine bar Postino, Sachi Salon, and Spa, luxury real estate firm Engel & Völkers Scottsdale, and the casual but hip Modern Market Eatery.
Come Home to the Contemporary, Stylish Architecture of Optima Sonoran Village
Optima Sonoran Village is an exclusive luxury apartment community in Scottsdale. Our floorplans are the epitome of modern design, incorporating open-concept living spaces to create residences ideal for entertaining, relaxing, and so much more. Much like many of Wright's most famous designs, Optima Sonoran Village has been designed to make the most of the surrounding landscape, featuring floor-to-ceiling windows, oversize outdoor living spaces, and natural elements throughout the community.
Browse our available apartments for rent in Scottsdale and discover the true meaning of living in luxury in the Valley by scheduling your private tour of Optima Sonoran Village today.
Image Cred: By Eugene Fedorenko