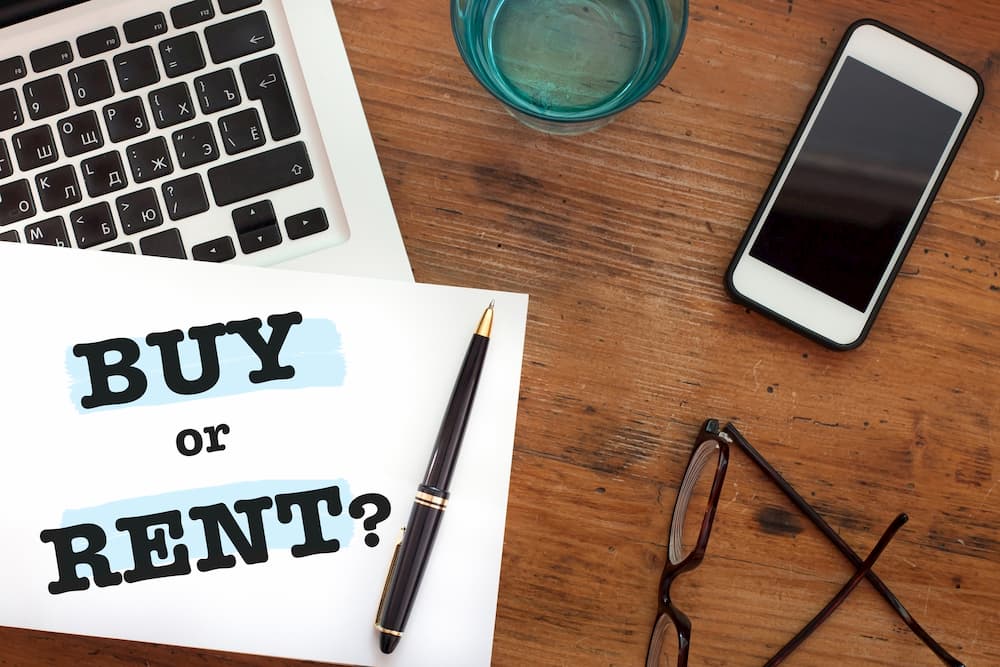 When you're trying to make any big life decision, breaking down the pros and cons of each of your options can be a smart way to make the right choice. Of course, deciding whether renting or buying is better is completely up to you – and means that you'll need to consider your lifestyle, budget, and preferences. It can be overwhelming to figure out which is the best fit for you, especially when both offer their own unique pros and cons.
But now, we're making it easier to weigh your options by arming you with a handy list of the most important factors to take into account when you're wondering: should I rent or buy?
Renting vs. Owning/Buying: A Closer Look
Owning your own home is often considered an important milestone that every individual should strive for – but is it really all it's cracked up to be? While there are certainly positive aspects to homeownership, there are plenty of downsides as well. In fact, when you assess the pros and cons of renting versus buying, a rental property often comes out as the winner.
Here are just some of the benefits of renting when compared to buying, making it easy to see why more and more people are deciding to rent their dream residences:
You Don't Have to Deal with Maintenance or Repairs
One of the biggest advantages to renting is that you can live without worry of an unexpected repair bill or major maintenance cost. If you know even a few homeowners, you've likely heard about the long list of things that can go wrong with a property – and it adds up quickly! But when you're a renter, it's not your responsibility to deal with maintenance, improvements, or repairs. From appliances to light bulbs, it's all handled by your property manager.
It's common to hear that owning a home is less expensive than renting in the long run, but that argument doesn't usually take repair and maintenance into account. Even a new home can have expensive issues, driving your overall costs higher and higher. If you'd prefer to avoid the expense (and stress!) of repair and maintenance, then renting might be right for you.
You'll Have Easy Access to VIP-Level Amenities
When you buy a home, you might be lucky to have a few parks in your neighborhood… luxury neighborhoods might even offer a community pool. However, nothing can compare to the amenities available to you as a resident of a luxury apartment community. Even the most basic of rental communities usually offer attractive amenities such as a fitness center and swimming pool, with upscale rentals promising a lifestyle that anybody would envy.
For example, at Optima Sonoran Village, we've crafted a Scottsdale rental community that has more amenities than you'll find anywhere else in the Valley. Resort-style pools, a 24-hour fitness center, on-site personal training, massage rooms, complimentary coffee services, and a virtual concierge are just a few of our residents' favorite amenities. Here, you don't even need to leave the property to experience a full day of luxury.
You Can Live in a Highly Desirable, Central Location
It's not unusual for single-family home neighborhoods to be located some distance away from a city's most popular highlights. Because of the nature of city planning, as a homeowner, you're likely to end up at least a few minutes' drive away from great shopping, dining, and entertainment.
However, rental communities are often nestled next to the most exclusive destinations in a city. Optima Sonoran Village is adjacent to many of the best shops, galleries, and restaurants in Scottsdale, including the dining and nightlife in Old Town Scottsdale. Just outside our community, you'll find a myriad of places within walking distance. Scottsdale Fashion Square has all of the designer boutiques and high-end department stores you can think of, while the Scottsdale Waterfront features five-star dining. Just a few miles away, the natural splendor of Camelback Mountain and the Desert Botanical Garden awaits.
And even though we're so close to the best in Scottsdale, Optima Sonoran Village remains a quiet, peaceful retreat from the excitement of city living.
You Have a High Level of Flexibility When Renting
Purchasing a home is a huge decision, mainly because it is a big commitment in terms of time and money. Even if you decide that you don't like your home, you can't just move out. Instead, you have to resell it, which involves plenty of expense and wait time. Life events such as a relocated job, new relationship, or even just a change in lifestyle can be a massive burden for homeowners.
But when you're renting an apartment, you can enjoy far more flexibility. A typical lease averages about one year, though some communities offer shorter or longer options. If you do need to unexpectedly break your lease, you will be required to pay a fee. However, the cost and stress will be much less than what's required to sell a home. In the event that you realize you want more space or a different layout, you might just decide to relocate to another apartment in the same community – a quick, easy move that can offer a major lifestyle upgrade.
Discover a New Standard of Luxury Living at Optima Sonoran Village
Are you still undecided when it comes to choosing between renting or buying? Once you've toured a luxury apartment at Optima Sonoran Village, one of the most exclusive apartment communities in Scottsdale, your decision might just be an easy one. With designer-inspired residences, resort-style amenities, stunning grounds, and a premier location in the heart of Old Town, Optima Sonoran Village redefines apartment living.
Here, you can enjoy all of the benefits of living in a rental apartment, all while reveling in the quality of life normally reserved for private luxury residences. Prospective residents can choose from a diverse range of floorplans, many of which offer more square footage, high-end finishes, and amenities than an average home. Add to that the incredible lifestyle that's within easy reach at Optima Sonoran Village, and the choice is clear: here, you can seize the life you've always dreamed of.
Find your dream Scottsdale rental and take your first steps towards luxury living by contacting us or scheduling a tour today.