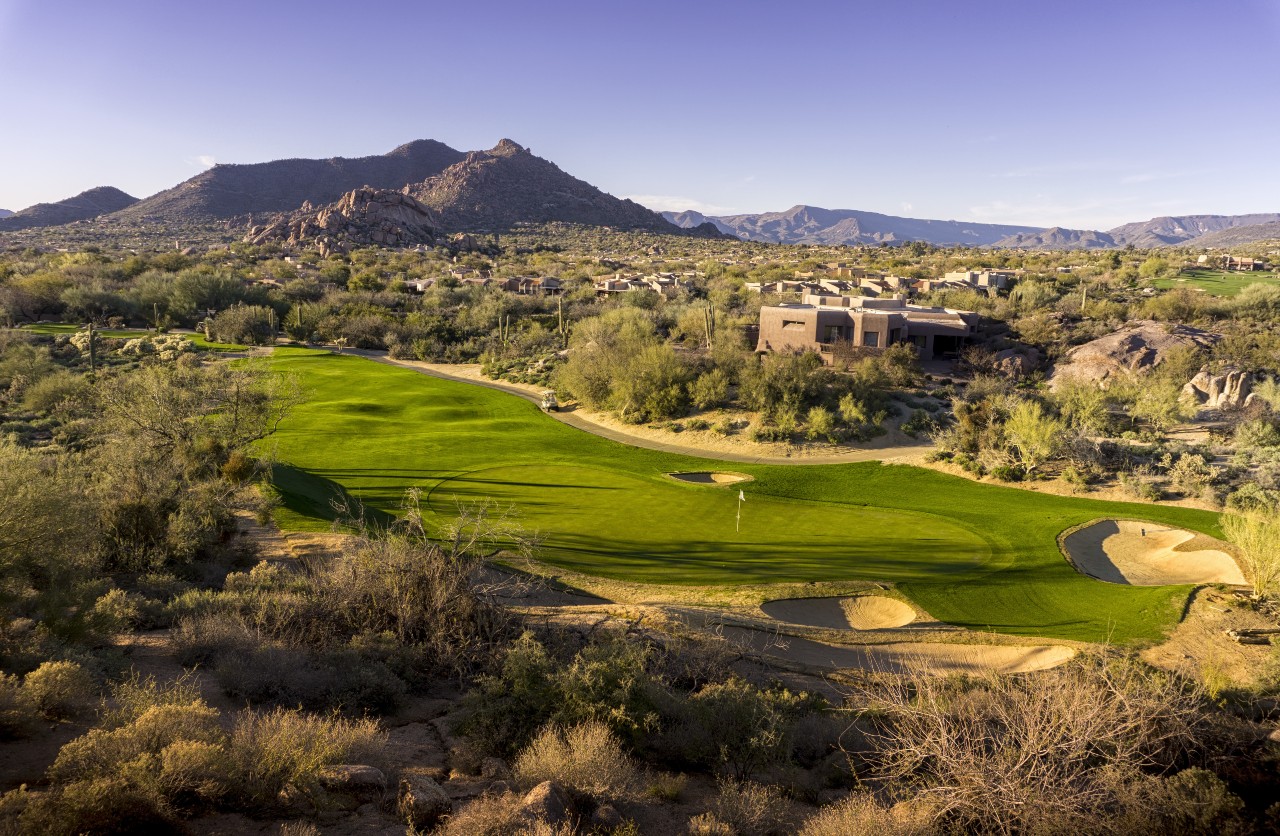 For an avid golfer, there are few better places to call home than Old Town Scottsdale,
Arizona. Drenched in the sun year-round and known as one of America's favorite getaway destinations, the Valley is host to a record-holding number of golf courses per capita – a fact that comes as no surprise to those that know the area well. But of all the cities and neighborhoods in the Phoenix metropolitan area, Scottsdale is the golf mecca that outshines them all.
Scottsdale offers an endless number of opportunities to get out onto the green with hundreds of golf courses within its city limits. And located right in the heart of it all is Optima Sonoran Village, the most exclusive luxury apartments in Scottsdale. Our residents are just minutes away from some of the world's most renowned golf courses, putting them in the perfect position to work on their game any day of the week. Here, golfing isn't just a casual hobby; it's a lifestyle, and it's one that you can make the most of when you come home to Optima Sonoran Village.
It's nearly impossible to play favorites when it comes to the best golf courses in Scottsdale, but we've managed to put together a shortlist of five fabulous courses just a swing or two away from our community.
Troon North Golf Club
In the eyes of golfing enthusiasts, the Troon North Golf Club is the crown jewel of Scottsdale golf courses. Its dual 18-hole courses epitomize the desert golfing experience, surrounded by the breathtaking scenery that you'll only see in Arizona. As you work your way from the first to the eighteenth hole, you'll be able to take in views of the iconic Pinnacle Peak, the rugged natural ravines, and a wealth of wild desert foothills. The customer service is unparalleled and the course enjoyably challenging, making for an excellent day on the green.
We-Ko-Pa Golf Club
Located in the neighboring community of Fountain Hills, the We-Ko-Pa Golf Club is a short drive from our spot in Old Town Scottsdale. The Club was honored as one of Golfweek's top 100 modern courses, ranking as the top public access courses in the entire state. In between strokes, you'll have the luxury of 360-degree sweeping mountain vistas and the occasional glimpse of native wildlife. Once you've finished your game, grab a bite at the clubhouse. The structure spans more than 20,000 square feet and features an oversized patio and full-service restaurant.
TPC at Scottsdale – Stadium
Even for the amateur golfer, TPC Scottsdale is a well-known event. As host to one of the world's largest golf tournaments, the Waste Management Open, this famous course has welcomed an impressive list of iconic names. Balancing playability and a healthy level of difficulty, the two championship courses at TPC Scottsdale offer an experience beyond what you'll find nearly anywhere else. Plus, as the only PGA Tour facility in Arizona, this is a venue that raises the bar for service.
Westin Kierland Golf Club
Part of Scottsdale's recently-developed Kierland community, the Westin Kierland Golf Club is based out of the Westin Kierland Resort and Spa. When you consider the sky-high standard for luxury represented by the resort, it makes sense that the Golf Club is an outstanding Scottsdale golf destination. Golfweek has named it one of America's best courses, so you can count on an enjoyable experience as you explore the flawless fairways on an air-conditioned golf cart.
The Boulders Golf Club
If golf is your way to "get away" from it all, make The Boulders Golf Club your club of choice. Nestled among the desert landscape's breathtaking natural terrain, the courses are no stranger to expansive views and local wildlife visits. The fairways are immaculately maintained, providing perfection even during the warm summer.
Start Living Life the Optima Sonoran Village Way
From your golf game to your home, there's no reason to settle for less than the best. At Optima Sonoran Village, we've created an upscale community that's firmly rooted in the belief that you can – and should – have everything you want in life. Whether that's an array of world-class golf courses, luxurious and modern residences, or a myriad of high-end amenities right outside your front door, you can get it all as a resident of our Scottsdale apartment community.
There are some unparalleled golf courses near Scottsdale. Still, there's also an incredible variety of other things to see and do: five-star dining, designer shopping, arts and culture, a thriving nightlife, and outdoor adventures galore. No matter what kind of life you want, it's waiting for you at Optima Sonoran Village.
Discover the lifestyle and the home of your dreams by arranging a private tour of Optima Sonoran Village, Scottsdale's premier luxury apartment community, today.
Featured Image: BCFC / Shutterstock