In this guide to the luxury amenities available at our exclusive apartment community in Scottsdale, AZ, we'll be exploring:
The community and apartment amenities available to residents of Optima Sonoran Village
How our amenities can elevate everyday living to a new level of luxury
The features that make Optima Sonoran Village different from any of the other Scottsdale apartment communities
Finding your next apartment is about more than simply choosing a place to live; the goal should be to discover a home and community that serves all your wants and needs. Beyond simply being functional, the best luxury apartment communities provide unmatched amenities to enhance residents' lifestyles.
At Optima Sonoran Village, every aspect of our residences and community was designed with you in mind. Our apartments in Old Town Scottsdale are crafted for upscale urban living, providing the perfect home base for individuals who expect the very best of everything. Both your private residence and the community itself feature an array of amenities and services. Here, you can discover the life that you've always wanted and deserved, a life that brings out the best version of you.
We're taking a closer look at some of the many amenities at Optima Sonoran Village, giving you an at-a-glance guide to the myriad of reasons you'll want to call our community home.
Apartment Amenities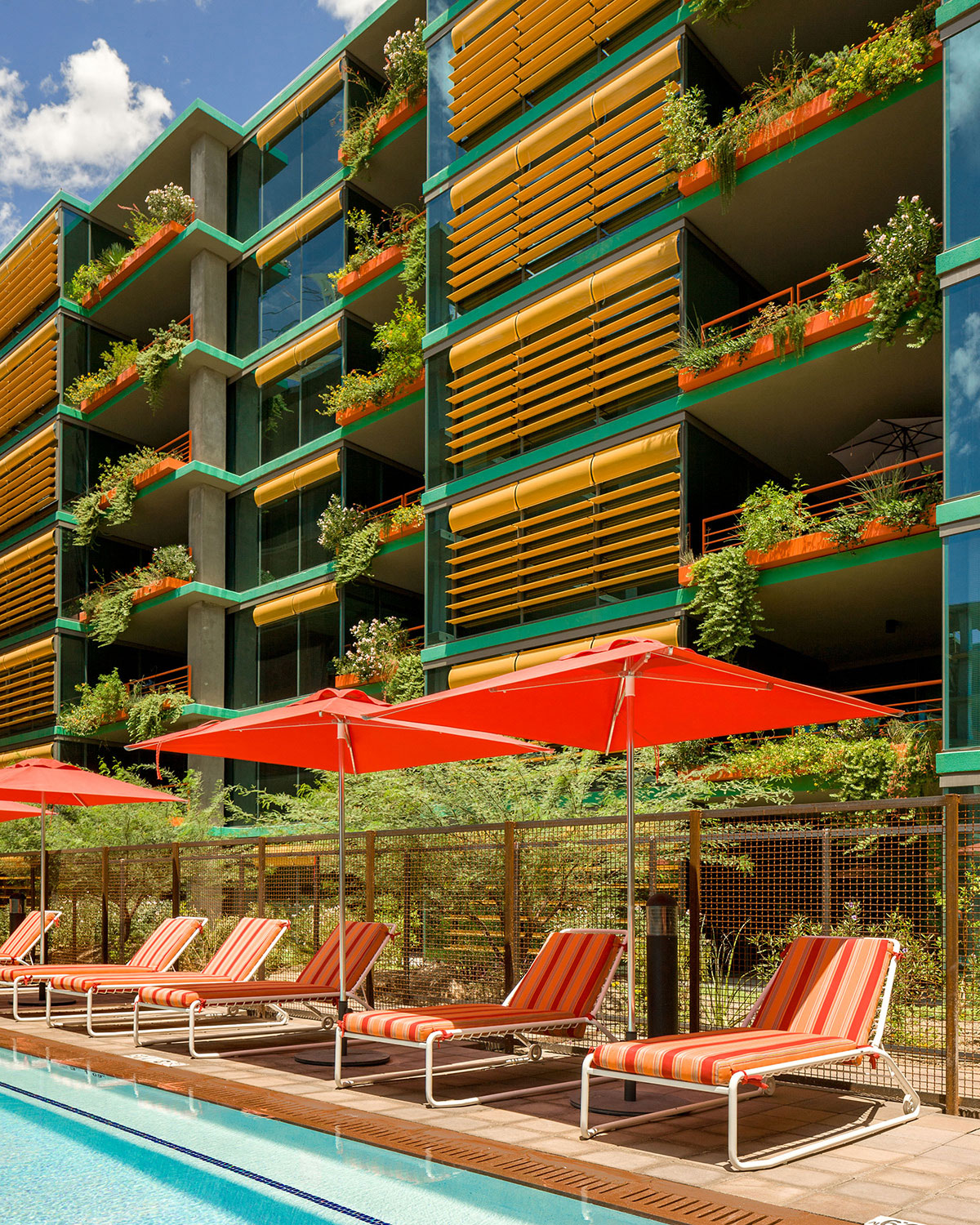 Within the walls of your home, you'll find no shortage of amazing amenities to enjoy. Every detail has been considered, resulting in stunning spaces that offer an unparalleled quality of life.
Oversized outdoor living spaces with modern landscaping
One of the best parts of desert living is our weather. While other regions experience cold, rain, and even snow during the fall, winter, and spring, the Valley welcomes hundreds of days of sunshine every year. There are few other places where you can easily spend the winter holidays soaking up the sun or a spring evening swimming in the pool.
The apartments at Optima Sonoran Village include expansive outdoor living spaces so that you can make the most of our fantastic weather. First-floor residences in our newest tower have large terraces and private, fully landscaped yards, while other homes incorporate extended terraces with plenty of space for entertaining. While you relax outside, you'll be surrounded by the lush greenery of our signature vertical landscaping – a gorgeous contrast to the desert beyond.
Floor-to-ceiling windows
When breathtaking mountain and city views are just beyond your apartment, having large windows equates to living works of art on your walls. Our apartments incorporate floor-to-ceiling windows into their designs, bringing in plentiful natural light and creating the sense of a larger living space.
You'll never tire of the incredible views, which hint at the exciting experiences waiting just beyond our community.
Upgraded finishes and features
Granite countertops and stainless-steel appliances enhance our gourmet-inspired kitchens, while luxury plank flooring provides a beautiful canvas to suit any decor style.
Other features that go beyond the typical include washers and dryers in every home (as well as full laundry rooms in many floor plans), as well as wine refrigerators, ceiling fans, and carpeted bedrooms in select units.
Indoor garage parking and a wash station
It's no secret that parking is often one of the biggest pain points of apartment living – but not for residents of Optima Sonoran Village. You'll have a reserved space in our private parking garage, so you can securely store your vehicle. The indoor parking protects your vehicle from the elements, keeping it cool during summer and clean year-round.
When it's time for a wash, take advantage of our car wash station for a quick and convenient cleaning.
Community Amenities
Of course, you aren't just living in an apartment; you're residing in a luxury community in one of the most upscale cities in the nation. So, it only makes sense that you have access to outstanding amenities throughout the Optima Sonoran Village community as well.
A 24-hour fitness center with all the features you could ever want
Until you actually experience our expertly-equipped fitness center, it's almost impossible to envision it. Outfitted with a variety of equipment, including treadmills, stair climbers, bikes, free weights, and strength equipment, the fitness center makes working out a breeze.
Get professional support with on-site personal training or change up your workout routine by using our indoor lap pool, indoor basketball and racquetball courts, and more. On rest days, visit the on-site putting green for a relaxing round of golf, or play with your pup at the community pet park.
An Optima Connect membership
In the heart of Scottsdale, there's no end to the adventures that await. Five-star dining, designer shopping, arts and culture, and luxurious spas are all just minutes away. Why not make the most of everything the Valley has to offer?
We created the Optima Connect program to provide exclusive benefits to our residents, such as discounts and deals at businesses throughout the city, tickets to local events, and more. You'll look, feel, shop, and eat like a better version of yourself – and you'll be a savvy saver at the same time.
A virtual concierge available 24/7
Convenient, maintenance-free living is a must for a luxury lifestyle. Our Optima Sonoran Village concierge is always available to serve your needs, whether you need to chat with support staff, have a question about the community, or are on the hunt for restaurant recommendations.
We want to do more than just provide you with a beautiful building to live in; our goal is to make every moment here as perfect as possible.
Amenities that rival a five-star resort
What if every day of your life could feel like a vacation? At Optima Sonoran Village, that dream can be your reality.
Our community includes a multitude of features that you'd normally find in an upscale resort. But for residents, they're simply the everyday amenities they can access anytime they'd like. Resort-style pools are set up with umbrellas, lounge chairs, fire pits, and complimentary towel service, while outdoor kitchens make entertaining easy. Our complimentary coffee service ensures that you start the morning on the right note, while our saunas, steam rooms, and massage rooms let you end the day with some much-needed relaxation.
Host an event in our residents' club or party room or tackle some important tasks in the fully-equipped business center. From work to play and everything in between, Optima Sonoran Village truly has it all.
Join One of the Most Exclusive Luxury Communities in Scottsdale, AZ
With so many upscale apartments for rent in Scottsdale and the surrounding area, Optima Sonoran Village has always been dedicated to standing out from the crowd. Our residents could have chosen virtually any of the luxury apartment communities in the Valley, and yet, they came to us. There's not just one reason that Optima Sonoran Village has become one of the top places to live in Scottsdale, AZ; instead, it's a sum of everything we have to offer.
Change the way you think about apartment amenities and raise your expectations for luxury living. After all, don't you think it's time to live somewhere you truly love?
For more information about our amenities, as well as details on currently available floorplans, contact our office online, call us at (602) 780-2517, or schedule a tour today.