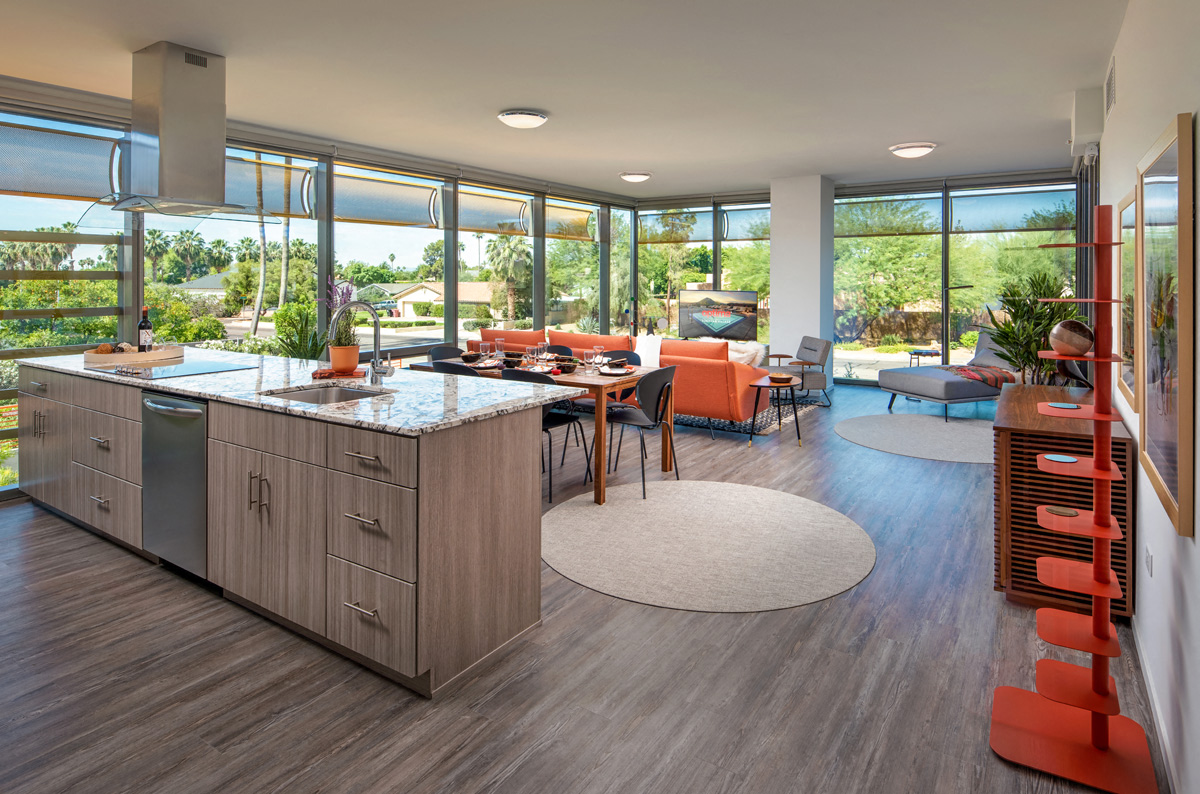 Moving into a new apartment is an exciting experience, especially because you have a completely blank canvas to decorate. But for many apartment dwellers, figuring out how to make their space feel like home can be a challenge.
Whether you're getting ready to relocate to a new place or want to enhance your current apartment, adding the right decorative touches is the best way to truly make it feel like your own. From maximizing the functionality and style of a small apartment to making every room feel unique, we've assembled a list of the best apartment decorating tips to help you get started.
Interior Design Tips to Make Your Apartment a Home
You don't need a professional interior design consultation to style your next apartment – especially with these tips and tricks up your sleeve. For a comfortable, personalized apartment that would impress even the most skilled interior designers, here's a go-to guide to our favorite apartment decorating ideas.
Never underestimate the impact of lighting.
From table lamps to wall sconces, the right lighting can completely transform your apartment. Even if your apartment already comes with plenty of built-in lighting features in the form of ceiling fans, can lights, and more, you still want to make sure to add your own to enhance the space.
Almost every room should have at least one table or floor lamp, except for the kitchen and bathrooms (although some interior designers add petite lamps there as well). Make use of plug-in wall sconces so that you don't have to deal with hardwiring – there are so many stylish, designer-crafted options out there. Floor lamps are ideal for a cozy corner, especially if you choose lamps with a slim profile and minimal footprint.
Not only does lighting literally brighten your apartment, but it switches up the mood for certain times of day or occasions. Tech-savvy smart bulbs offer options for adjusting the color, brightness, and more, giving you full control. Think elegantly dimmed dining room lighting for a dinner party, a gently glowing bedside lamp for pre-bedtime reading, and a warm, welcoming entryway lamp to greet you after a long day at work.
Of course, the best way to enjoy a flawlessly lit home is to choose an apartment with ample natural lighting. For example, the floor-to-ceiling windows at Optima Sonoran Village not only offer beautiful views but also let in plenty of sunlight during the daytime hours. What better way to wake up for your morning cardio session than with the Arizona sun gently streaming into your home?
Maximize storage with smart, stylish solutions.
Even if you've lived in a large, single-family home, you know that storage is a common frustration – no matter the size of your space. You've probably found yourself searching for new ways to add storage space without weighing down the design with unappealing clutter.
At Optima Sonoran Village, rooms like the kitchen and bathrooms are ready to contain all your necessities with sleek, modern cabinetry. Moving into a thoughtfully designed apartment is the first step you can take towards mastering stylish storage.
There's also no shortage of attractive, storage-friendly furniture and design ideas to consider. Prefer to keep your area clean and uncluttered? Built-ins with cabinets or furniture with hidden storage drawers are a great option. For the maximalist who like all of their belongings taking center stage, vertical shelving for the walls adds both storage and personality.
Create "zones" with your furniture, area rugs, and decor.
When you decorate your apartment, the goal should be to aim for both form and function. Not only do you want the space to look great, but you always need it to serve all your needs, whatsoever those may be. Using furniture pieces, rugs, and other elements to divide your home into "zones," you can make sure it's being used to its fullest potential.
Creating zones is particularly useful in open concept designs, like in the residences at Optima Sonoran Village. The kitchen, dining room, and living room all flow into each other, which is an ideal way to create the sense of a space that's larger than it actually is. At the same time, some people aren't sure how to begin "using" such an open-ended space.
But with furniture, you can set up zones that make sense for your lifestyle. Maybe you love to entertain, so you place a large table and comfortable chairs in the dining area. An oversized, easy-to-clean rug will anchor the area and create a soft cushion underfoot. Keeping this approach in mind, you can keep each space connected but also defined.
Don't forget window treatments.
When it comes to apartment design ideas, many lists fail to mention the impact that window treatments can have. Even though you might be tempted to skip the time and investment involved, especially when you're renting, don't – curtains and shades can completely change your home for the better. Luxurious drapes in the bedroom, a casual cafe curtain in the kitchen, and smart shades in the main living area are both stylish and useful.
Keep in mind that you should always double-check your rental agreement to see if there are any limitations on what you can do.
Incorporate art into your apartment decor.
One of the simplest ways to make your apartment feel like home is with art that speaks to your style. It doesn't matter whether you prefer contemporary, abstract pieces, traditional and vintage paintings, or even a mix of artistic photography and candid shots of friends and family – if you like it, it should earn a spot in your home.
Create a focal point with a single large piece of wall art, hang a gallery wall that centers on a specific theme, or scatter framed pieces of all sizes throughout all the rooms. Ultimately, how you use art – and the kind you enjoy – is completely up to you.
The Scottsdale Apartments You'll Love Coming Home To
Ultimately, even the best apartment interior design tips won't be helpful if you're starting with a space that doesn't suit your needs. Instead of settling for an apartment that isn't perfect for you, why not set yourself up for decorating style success by choosing the best apartments for rent in Scottsdale, AZ?
Optima Sonoran Village is the Valley's premier luxury rental community, raising the bar for upscale apartment design. With floor plans that range from a streamlined studio to an expansive, three-bedroom apartment with ample room for entertaining, we have something to suit every lifestyle.
Our smallest studios are more spacious than many other apartments for rent in Phoenix, so you can be confident that you'll have plenty of room to express yourself with the apartment decor of your choice. Plus, because Optima Sonoran Village boasts designer interiors with thoughtful details and premier finishes, you have a stunning space even before you add decor.
See our residences for yourself with an in-person tour of our studio, one-, two-, and three-bedroom apartments in Scottsdale – it's the best way to get a feel for what your future home at Optima Sonoran Village will be like. Contact our leasing office to schedule your tour today!