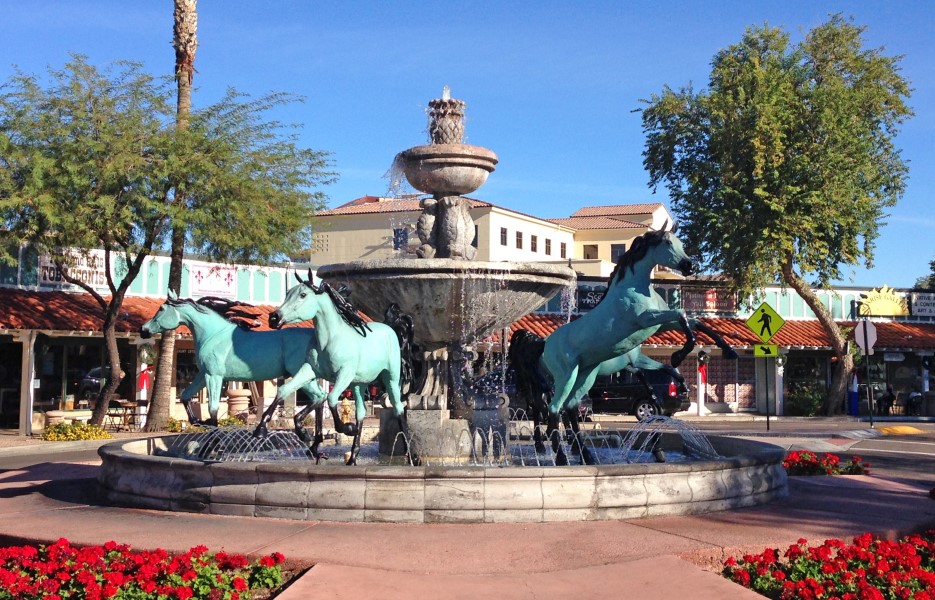 Updated March 2022
Old Town Scottsdale is known as the Valley's ultimate hot spot for the best in fashion, design, food, art, and culture. So it should come as no surprise to hear that the area is home to many of the best furniture stores in Arizona.
If you're searching for stylish, upscale pieces to furnish your apartment, you've absolutely come to the right place.

Discover Exceptional Furniture Finds at these Old Town Scottsdale Shops
Here are some of the best Old Town Scottsdale shopping spots for furniture and home décor:
Roche Bobois (4545 N Scottsdale Rd., Suite 103)
With a carefully curated selection of contemporary furniture from international designers, Roche Bobois is the perfect shopping destination for anyone interested in how to furnish an apartment with a modern flair. The convenient location just east of Fashion Square Mall and northeast of the Scottsdale Waterfront makes it easy to stop by anytime.
If you're driving from north Scottsdale or Paradise Valley, merge onto either Loop 101 South or AZ-51 heading south. From the 101, exit west onto Chaparral Road, then turn left onto Hayden Road. Take a right on Camelback Road, then right on Scottsdale Road.
Alternatively, take the AZ-51 south to Lincoln Drive, then turn right on 32nd Street. Turn left at Camelback Road, then left onto Scottsdale Road. Use Loop 101 North to access the Indian School Road exit from south of the store, then drive west until Scottsdale Road, where you'll turn right.

Buffalo Collection (7044 E 5th Ave, Scottsdale, AZ 85251)
When you picture home décor inspired by the American West, you might imagine cowboy-themed furniture that's anything but subtle – but the Buffalo Collection furniture store in Scottsdale proves that it's absolutely possible to put a stylish, modern spin on Western tradition.
If you're searching for the finest genuine leather furniture for sale in Phoenix, Buffalo Collection should be your first stop. Working with the highest-quality American Buffalo leather, the brand has built a respected reputation as one of the best in the business. Their leather products are handcrafted by skilled artisans and craftsmen, combining classic elements of the American West with a sophisticated, contemporary style. When you browse the furniture from Buffalo Collection, you'll see a beautifully understated homage to the iconic boots, lariats, bridles, and crafts of the cowboy era. And yet, not a single piece goes overboard with Western touches.
Located just minutes from Scottsdale Fashion Square, Buffalo Collection is a convenient shopping destination no matter where in the Valley you're coming from. Simply take the Loop 101 to Indian School Road, then head west until you reach Scottsdale Road. Drive north on Scottsdale Road, turning left on 5th Avenue in Old Town Scottsdale. Just after the roundabout, Buffalo Collection will be on your right.
Retablo (7236 E 1st Ave, Scottsdale, AZ 85251)
Consistently named as one of the best places to shop in Old Town Scottsdale, Retablo is a one-of-a-kind, family-owned décor store. With a wide variety of Southwestern and Mexican décor, this self-described "furniture and folk art" store is the perfect place to find special touches to make your Scottsdale apartment incredibly unique.
In addition to interior décor, Retablo also offers a beautiful selection of outdoor plants, decorative metal art, and more. So, you can easily personalize your oversized outdoor living space at Optima Sonoran Village – making it all the more enjoyable to spend as much time as possible outdoors. From the Loop 101, exit on Indian School Road and drive west. Then, go south on Brown Avenue, take a quick right on 1st Avenue, and find Retablo directly on your right.
Tudor Custom Furniture (4110 N Goldwater Blvd, Scottsdale, AZ 85251)
When you're working with the gorgeous blank slate of your Old Town Scottsdale apartment at Optima Sonoran Village, you can truly style a space that's suited to your personality – so why not leverage custom design to create the ultimate in perfect décor?
Tudor Custom Furniture offers custom-made furniture, bedding, pillow, and window treatments, including furnishings for both indoors and outdoors. They also provide custom upholstery, giving you full creative control. The quality of their craftsmanship is unparalleled, and you can be confident that you're investing in heirloom-level pieces for your home.
You can find Tudor Custom Furniture in Scottsdale, located at the northwest corner of Indian School Road and Goldwater Boulevard. Depending on where you're coming from, you can either take the Loop 101 to Indian School Road, then head north on Goldwater Boulevard and access the store directly on your left. Or, you can take the Loop 202 to Scottsdale Road, then take Goldwater until you pass Indian School Road and enter Tudor Custom Furniture on the left.
Brady Grey Home (7129 E 1st Ave, Scottsdale, AZ 85251)
Brady Grey Home is a premier store for modern farmhouse furniture and décor in Scottsdale, achieving a wonderful balance between rustic-chic and sophisticated style. Here, you can browse both new furnishings and antiques, as well as a diverse collection of fine art. Brady Gray Home also offers design services, if you're interested in connecting with a professional to create your dream space.
Exploring their Scottsdale furniture store is a first-hand experience in décor inspiration, and can be a fabulous way to get ideas for decorating your luxury apartment and truly making it your own. If your style is classic, timeless, yet comfortable, Brady Gray Home might quickly become your newest favorite design store in the Valley.
Brady Gray Home is located in Downtown Scottsdale, near the intersection of Scottsdale Road and 1st Avenue. If you're taking Scottsdale Road to 1st Avenue, a left turn will bring you directly to Brady Gray on your left-hand side.
Find Your Dream Home at Optima Sonoran Village
Now that you have a complete list of the best furniture stores in Scottsdale, shouldn't you be thinking about the perfect apartment for all your stylish furniture finds? At Optima Sonoran Village, our spacious luxury apartments feature open floorplans and designer-inspired upscale elements that provide the ideal backdrop to your unique sense of style.
Enjoy a minimalist lifestyle in our sleek studio units or spread out in one of our expansive three- or four-bedroom residences, with many of our units offering amenities like walk-closets, large outdoor living areas, and more.
Learn more about everything that Optima Sonoran Village has to offer by scheduling your private tour of the residences and community today.
Image Credit: Shutterstock/Cre8 design