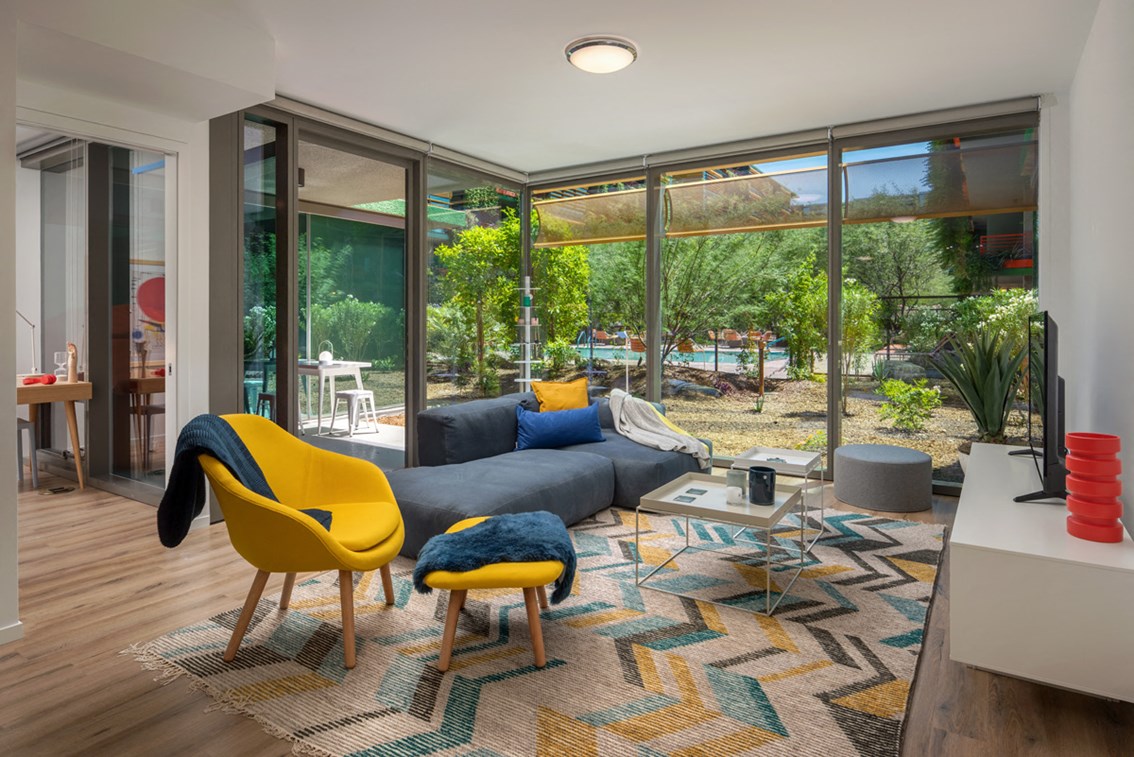 Your apartment is more than just the place you call home; it's a vital element in your lifestyle and can change the way you experience the everyday. A growing number of people in Scottsdale are seeking to live in a luxury community that can fulfill their every desire, making it easy to create an incredible life they truly love.
At Optima Sonoran Village, our community is expertly designed to serve the wants and needs of every resident, allowing you to shape the luxury lifestyle you deserve. Our luxury apartments in Scottsdale offer an extensive list of amenities that raises the bar for high-end apartment living.
Here are just a few of the top benefits of living in a luxury apartment:
Beautifully Designed Living Spaces that Feel Like Home
Rather than settle for the cheaply-constructed, poorly-outfitted apartments you'll find in other communities, the luxury apartments at Optima Sonoran Village are designed with a distinct sense of high-end style. Floor-to-ceiling windows bring the stunning desert and city views into your home, while upscale touches like granite countertops, solid surface flooring, and stainless-steel appliances comprise the beautiful interior. Thoughtful elements like walk-in closets, wine refrigerators, and spacious outdoor living areas elevate your apartment unit into your dream home.
Community Amenities that Make Every Day a Vacation
Here, you'll enjoy a balanced live/work/play vibe that makes it easy to live every day as your best self. Stay in prime shape with our 24-hour fitness center, complete with on-site personal training, an indoor lap pool and spa, sports courts, and more. When it's time to relax, take advantage of resort-style living at our gorgeous outdoor community spaces, featuring pools, fire pits, outdoor saunas, a pet park, and a 19,000 square-foot private residents' club. Many so-called luxury communities may offer only a single outdoor pool and cramped gym, while Optima Sonoran Village goes above and beyond to deliver a community that truly has it all.
On-Site Services for the Ultimate in Convenience
Save yourself time and energy with signature services from Optima Sonoran Village, which makes it easy to focus on doing the things you love. Our complimentary coffee service will deliver your favorite latte every morning, while the 24/7 virtual concierge can handle everything from ordering concert tickets to scheduling your appointments. On-site staff like our custom tailor, Pilates instructor, barbers, and hairstylists will make sure you look and feel your best every day, and electric vehicle charging stations and car wash stations let you keep your vehicle in prime condition.
Privacy, Safety, and Security
At the Optima Sonoran Village luxury community, our residents' safety and security are of the highest priority. Our management staff works tirelessly to maintain the peaceful serenity and upscale ambiance our residents know and love, while useful services like 24/7 package receiving (and pick-up) mean you'll never have to worry about your most valuable possessions.
Experience the Only True Luxury Lifestyle Apartments Scottsdale Has to Offer
For anyone searching for luxury apartments in Old Town Scottsdale and its surrounding neighborhoods, there are plenty of communities that promise the upscale residence and lifestyle you've always wanted. However, when it comes to high-end apartment amenities, Scottsdale is home to the one and only luxury community that can truly exceed your every expectation: Optima Sonoran Village. At our luxury apartment community in Scottsdale, we're redefining the concept of high-end living, providing residents with unparalleled access to exclusive amenities, stunning living spaces, and an excellent location in the heart of Old Town.
Learn more about the luxury lifestyle waiting for you at Optima Sonoran Village by contacting us to schedule your private tour today.
More From – Optima Sonoran Village
Location – Where is Optima Sonoran Village?
We're a local apartment complex in Scottsdale, AZ located right off Camelback Road. Our experienced team is eager to help you move into the home of your dreams. We're the best place to live in Scottsdale and once you visit us you'll see why!